Reducing DNA's (Did Not Attend) in your Practice
Did Not Attend (DNA) is one of the problems that every clinic wants to solve desperately because it has a significant impact on the clinic to survival. Not only do you lose the opportunity to charge a patient, but there is also the additional admin expense involved with following up with the patient.
You may think that in the big scheme of things, this is not something worth investigating. However, it should be taken seriously. Not only does it impact the effectiveness of patient care, but also it is a waste of your time and practice resources.
Cost of No-Shows
Let's say, you have an average of 10 No-Shows per week.
$75 per appointment (standard consultation), multiple by 10 missed appointments = $750/week
If you multiple the above amount on annual basis, you are losing almost "$40,000" per year.
And …… We haven't calculated other additional costs, such as admin follow-up.
If you could reduce this to 1-2 DNAs per week, you would be saving at least $31,200. That is a lot of money to leave on the table.
Why do patients did not attend scheduled appointments?
It is important to understand why patients are making appointments and not keeping them. Below are the most common reasons why:
Forgot about the appointment
No longer needed to attend (ie feeling better)
Unable to get there (employment, travel, childcare)
Difficulty canceling
Forgot to cancel
Didn't think the appointment was needed
How do we recommend reducing DNAs?
1) SMS Appointment Reminders – SMS reminder is proven to be working in terms of reducing DNAs in the clinic by the research article published this year.
2) Reception Daily Follow up
3) DNA Rebook SMS's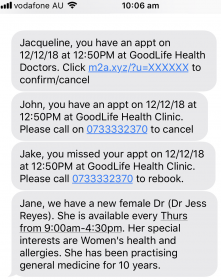 SMS Reminder solution
Firstly, it is important to send reminder messages to patients. Our system sends reminders out 24 hours in advance. When SMS are sent, our system puts an [S] in the appointment details. Then when the patient confirms the appointment, it automatically puts in a [C].
When the receptionist opens the appointment book, they will see a green button next to all appointments that have confirmed using the Medi2Apps system. We recommend that your receptionist calls the unconfirmed appointments to remind them of their appointment. They will be able to confirm verbally whether they are able to make the appointment. This will eliminate a number of scenario's where patients do not attend appointments.
DNA Rebook SMS
Finally, if a patient despite the above, fails to attend an appointment. We recommend you follow-up via SMS. The Medi2Apps system sends out DNA(Rebooks) SMS's to patients, two hours after their scheduled appointment. Following up via SMS frees up reception staff. It also allows patients who really want an appointment, to book one.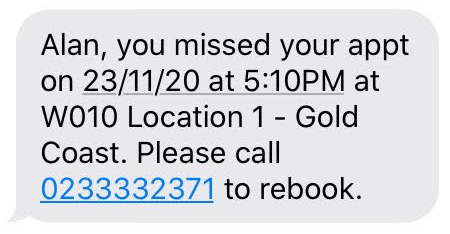 Additional Features and Recommends
You can customize your DNA message to communicate to the patient the impact of them not canceling their appointment. Also possibly offer them the opportunity to explain why they didn't attend. If you notice a re-occurring theme around why patients are not attending scheduled appointments, you can address this further.
By consistently following the process, patients will become aware that they are required to confirm their appointment. They will become comfortable with the process and the admin work will in turn reduce.
You can further educate patients by placing posters around your clinic about the importance of canceling an appointment.
Medi2Apps SMS Reminders and Rebook (DNA) messages (as above) are sent from a dedicated mobile number. You can include this number as an official contact number (as all calls will be forwarded to your clinic number). The consistency will ensure that patients are comfortable with clicking links that arrive via SMS, knowing it is from your clinic.
Now, it is time to solve this No-Show issue with our system, turning your loss into revenue and streamline your processes effectively and efficiently with more functions that we provide in our Medi2Apps package, get your patient visit your clinic, and let the practices do their work.
To learn more, visit our website for more info by clicking HERE