Video Conferencing Etiquette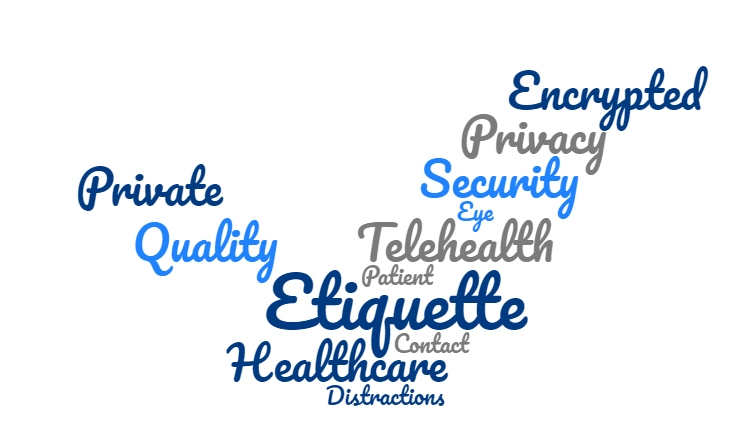 Providing healthcare services over video conferencing tools is more popular than ever. It is as "face-to-face" as you can get, without actually being in the same room.  As with all technology, there is an etiquette that needs to be followed to ensure that you come across as professional, while also ensuring that they are given the attention and empathy that they deserve and expect.
Video Quality
The visual component is what helps patients feel that you are in the same room as them. It is important that you have:
A good quality web camera;
The web camera positioned to show your face in the centre of the screen;
Good lighting in the room.
Audio Quality
The patient should be able to hear what you are saying clearly. Often doctors will have multiple mics turned on without realising (ie mic with a computer, a mic with a computer screen, and/or an external mic). When this happens, the patient will hear a buzzing feedback sound or will hear an echo when they say something. This can be very distracting/ annoying.  If you cannot turn off other mics, we recommend using a headset that will prevent the patient's voice from being picked up by your mic(s).
Patient Privacy
If you are working from home, it is important to ensure that your conversation is private. Wherever possible, you will need to be in a private room where your conversation will not be overheard or seen by others. This is especially important when the patient needs to remove clothing for an examination.
Limit the distractions
The biggest distraction today are phones and social media. It is important to turn other phones off or set them to silent. If you have any messaging apps on your computer, ensure that they are set to "do not disturb". Getting alerts, SMS, phone calls during the consultation are distracting. It is important to focus on the patient during the consultation.
You should also minimise the background noise, so things like TV's, music/ radio should all be turned off.
Dress the part
Working from home may seem like a great excuse to provide video consultations in your pj's. But doing this will have an impact on your creditability. It is best to dress as you generally would if you were in the clinic.  RACGP recommends avoiding brightly coloured prints or reflective clothing. Clothes in neutral tones are the safest bet.
Eye Contact
Keeping eye contact with the person you are talking to shows that you are actively listening and paying attention. This is extremely important in a consultation. The downfall of video conferencing is that your camera is not located where your patient's face is. So, although you may be looking and listening to the patient, it won't always seem that way.
To combat this, some people recommend looking at the camera or yourself. There are even tricks, such as sticking something above the webcam to focus on. However, this can be counter-intuitive and make you appear fidgety and not focused on the conversation.  Instead, we recommend you place your webcam at eye level and/or adjust your camera angle. Stay focused on the patient and if you need to look or move away from the patient, let them know what you are doing.
Listening
This might seem like a no-brainer, but, even the best platforms may occasionally lag. This is usually due to your or the patient's internet connection. Waiting a couple of seconds after the patient has finished talking will ensure that you are not talking over or interrupting the patient.
Communication
Identify yourself straight away. It is important to ensure that you communicate who you are, where you are calling from, and why.
Ensure that you are on time. If you are running late, let the patient know.
Give the patient clear instructions, pause between each task, give them time to note it down if they have to. Remember that the elderly will need more time. If they need to do something post-appointment, i.e. collect or download a script/referral/file after the consultation, let them know how to do this and when they will need to start doing this.
Be prepared
Make sure that you do a test run before you start meeting with patients. Know what you have to do i.e. (have a headset on to stop echo-ing). Know some basic troubleshooting i.e. how to switch from your back to front camera.
If you encounter an issue that you cannot solve, have a backup plan (i.e. call the patient directly).
Make sure that you have the patient's file open and ready to go.
Have a quality telehealth platform
It is important to have a video conferencing tool that is easy to use, reliable, and is secure. VirtualDoc365 has all of the above. Our video calls are fully encrypted, there are no downloads required to use the software and the system works. To learn more, check out https://www.virtualdoc365.com.au
0 Comments